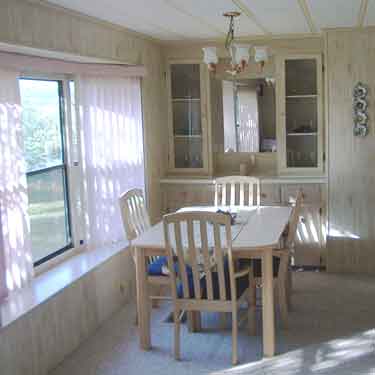 · At back of cul-de-sac in Ranchero's desirable Lakeside section.
· 2 bedrooms, 2 full bathrooms, 900 air-conditioned square feet plus big screen porch.
· Kitchen with closet, numerous drawers, high and low cabinets; dining room with built-in china cabinet, drawers; living room with bay windows, sill seating, sliders to screen room; hallway with closet; walk-in closet in each bedroom.
· Water softener ($4,000 value); carport; windowed shed with washer/drier hookup; large external AC/heat unit; grapefruit tree.
· All new carpet, vinyl floors, interior paint.
· Refrigerator, electric stove/oven, dishwasher, garbage disposal.
· Professional decorative touches include drapes, pewter knobs and fixtures, bath curtains, and artistic hangings.
· Furnishings: New or nearly new dining set, sofa, recliner, seating cushions; 25-inch television and stand; double and single beds with bedding and linens; coffee table, bedside tables, high and low chests; microwave, coffee maker, cookware and servingware, including teapot and kettle; vacuum and iron.